Five Rounds
for time of:
3
KB Presses
@ 24kg/16kg (L&R)
9
Ring Dips
18
KB Swings
@ 24kg/16kg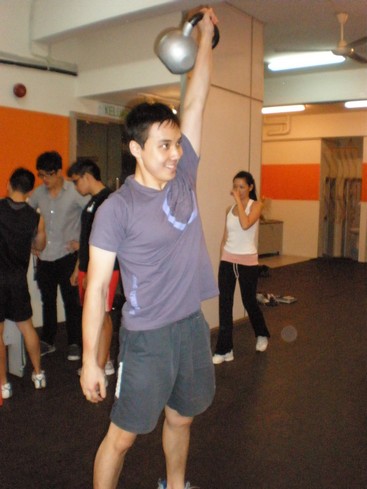 Chris Lai going easy with the 20kg.
********
PushMore's Open Days!
Date: 24th April 2010 (Saturday)
Time: 9:00am - 2:00pm
Location: PushMore Fitness Centre! (See sidebar for map details)
We will be having an "Open Day" for all PushMore peeps to invite their family & friends and share the fitness fun! We will teach the newcomers proper form and technique while we warm up, then we'll give them a workout scaled to their fitness levels. Do let any of our trainers know by Friday, 23rd April (when your guests will be in) and we will schedule a trainer accordingly!
Most importantly it is FREE! So bring your family and friend along too!
See you there peeps!
RSVP: by 23rd April, Friday
Please call: 03-78850120.