Breathing Ladder :
1 - 10 - 1 Kettlebell Swings
@ 24kg/16kg
Then,
Tabata Push Ups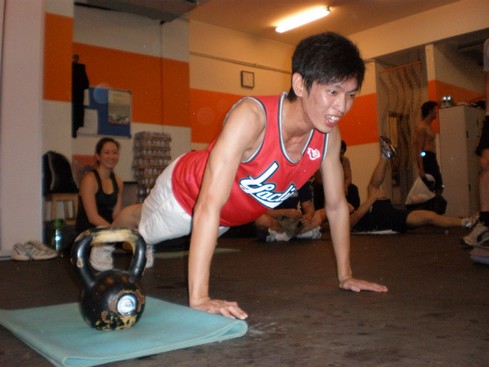 Poh Heon doing a good push up.
********
Breathing Ladder
Breathing ladders are a very effective technique for developing cardiovascular endurance. People who are out of shape tend to get in a panicked state as soon as they breathe a little hard. As you will rapidly discover, the way to survive is to slow your breath down as much as possible, to get maximum air and to increase your rest period between each set. If you panic and breathe quickly, your rest period is decreased and you are quickly dispatched to the dustbin of history
Do one rep followed by one breath, then do two reps followed by two breaths, three reps followed by three breaths, etc. Breathe as much as you want while working. Breathe only the specified number of "reps" while resting.
Source: Dragondoor.com
********
Kettlebell Classes
Please take note that there will be
NO KETTLEBELL CLASS
in the month of April. Classes will resume upon further notice.
Thank you.